Regular price
$1,800.00 SGD
Regular price
Sale price
$1,800.00 SGD
Unit price
per
Sale
Sold out
Suar is the regional, colloquial name for wood derived from the Raintree, a rainforest native with iconic umbrella crowns that flank Singapore's expressways generously. 

Comparatively fast-growing with distinctive grain lines and features, Suar is typically available as a single slab, each board a snapshot of history; a physical log of the natural events of in that period. This results, of course, in a wide range of slabs with a broad spectrum of characters and personalities, which we love!
As a tropical native, Suar has been a regional favourite for generations, attesting to its structural durability. With proper care and use, Suar wood is sure to deliver generations of service.
Shopping Notes:
Prices listed are indicative starting prices only (e.g., an 8-10 seater can be anywhere between 1.8m - 2.4m, which means prices between $1980 to $3300). Final prices are determined by the specific slab selected and customisation workmanship fees (if any). Please visit the showroom or Whatsapp us at +65 8499 8989 for more specific advice. 
How to Purchase

Where
The Table Guy wood slab collection is available for viewing and purchase from the showroom at 221 Henderson Road #01-06A. Walk-in hours are available daily (incl PH and Weekends) 1-6pm. Earlier timeslots are available by appointment.

When
We recommend starting your selection 3-4 months before your preferred date of delivery. This will give you ample time to make a considered decision.

How
Do bring your floor plan and preferred table dimensions (if you have them), for a more fruitful session. If your intended table is around 2.4m or larger, we recommend bringing in your lift dimensions as well so we can advise on accessibility.

Who
Our sales adviser will be present to guide you through the selection process, and provide any explanations you may need to make an informed choice.
How to Customise

How to Customise
The Table Guy dining tables are fully customisable. Yes - that means leg frames too. Some customisations are complimentary, while more complex ones will attract workmanship fees.

Should you require customisation, we recommend making an enquiry via Whatsapp to our sales team at +65 8499 8989 with details on what you have in mind, so that you can get an indicative quote and advice to consider whether to proceed with your project.
Storage, Delivery, Installation

Storage
New purchases from The Table Guy are eligible for up to 4 months' complimentary storage from date of purchase. Extensions beyond 4 months are chargeable, and you will be quoted based on the overall duration requested and size of items to be stored.

Delivery
Purchases of items in stock with no customisation required can be delivered within 2-3 weeks.

Customised orders are estimated to take between 6-8 weeks, as they will need to join a workshop queue.

Complimentary delivery is included for orders above $800.

Installation
All deliveries include installation, which is conducted on-site. Clients are responsible for ensuring safe access for both the items and workers. In the event of improper environment/ lack of access (eg ongoing renovation/ construction site/ unreachable contact person), the delivery may be cancelled and a redelivery fee will be charged.

Disposal
Our logistics teams offer disposal services at additional fees, which are paid to disposal sites and for manpower. Should you require bulky furniture disposal, please place your order before scheduling your delivery date, so that the logistics team can cater the space required to transport your bulky waste.
Payment & Warranty

Payment
To purchase your dining table, payment is required in full. To help minimise transaction costs to you, our default payment mode is Paynow.

Should you require alternative methods such as BNPL platforms or credit cards, please let your sales adviser know so that they can apply the correct transaction fee which is charged by these platforms.

Should you wish to discuss instalment payment, we are happy to assist. For all in-house instalment plans, final balance payment is due prior to delivery scheduling, and any instalments overdue by more than 7 working days will void your purchase and forfeit your deposit.

Warranty
All Table Guy solid wood slabs, unless stated explicitly, are covered by a 2 year manufacturing warranty, from date of delivery. This covers issues such as insects, mould and splits through the slab, which should not occur.

Real wood is an organic material, and cosmetic changes due to environment, time and use are expected. Damage due to improper use, storage and outdoor use is also excluded.
Tips on Saving $$

Hey, we get it - you might love solid wood and totally appreciate the costs that go into creating this product, but we all live with a budget, amirite?

Here are 3 ways you can save with The Table Guy:

(1) Look out for sales-

We recommend getting on our email list, following our Instagram account or our Carousell account to get notified when something new is happening. Items bought on sale are typically eligible for up to 3 months free storage.

(2) First timer? Get a referral -
Get a referral code from a friend to immediately receive a $50 coupon (min spend $1500)! Your friend will receive a $20 coupon too, on completion of your order. Note that your friend will need an account on our site in order to send you a referral code.

(3) Browse the Essentials Rack -

Slabs on the Essentials rack have all services pared back, so you only pay for what you need. Click here to learn more about Essentials Pricing.
View full details
Learn More About Suar Wood
A classic feature in Southeast Asian decor, Suar wood is derived from the Raintree, identified by its iconic umbrella crown that flanks and shades so many of our highways in Singapore.
A Southeast Asian Statement
With its distinct character and colouring, Suar wood is the quintessential Southeast Asian centrepiece.
Typically available in heftier proportions, every piece instantly adds a calming, lush accent of nature, bringing balance to our contemporary interiors. An ideal choice for creating a calm sanctuary, this tropical hardwood is often spotted in hotel lobbies, restaurant bars, and the modern Southeast Asian home.
Single-Slab Character
As a relatively fast-growing species, Suar wood is a favourite among single-slab enthusiasts.
Suar wood slabs range in character. From pieces with long, straight grain lines that flow across the board, to wild slabs that curve and bend without restraint, there is truly a piece to match every personality.
Heirloom Durability
A rainforest native, Suar wood has been tried and proven as a uniquely durable hardwood in Southeast Asia.
With proper storage and care, the structural sturdiness of Suar wood gives you flexibility in life - whether you plan to adapt your slab to fit an evolving lifestyle, or choose to pass it on as a bearer of memories to future generations, Suar wood is the ideal choice for those of us looking for long-term value.
Suar Wood FAQ
Is it true that Suar wood is more prone to defects than other wood types?

This is not true.

Manufacturing defects associated with wood, are defects that would arise with any wood type, as long as there were processing lapses. This is why manufacturing defects are covered by our 2 year warranty, which applies to all our wood types, not just Suar wood.

Plus - Suar wood is and has been one of the most widely sold wood types in Singapore. If Suar wood was really more prone to defects than other wood types, we're pretty sure all the other solid wood retailers would gone out of business chasing defects rectifications a long time ago.

Having completed over 2000 deliveries (of which almost 50% were Suar wood tables), we can confidently say that Suar wood does not have a higher defect rate than any other type of hardwood that we retail (and we have quite the range!)
Is Suar Wood cheaper because it is not as good as other wood types?

Wood slabs are priced by demand and supply, which are affected by many factors.

A strong factor that affects supply, is the rate of growth and cost of processing each particular wood type. Suar wood is a relatively faster-growing species, and is usually harvested from Indonesia which has lower labour costs, compared to Walnut, which is relatively slower-growing, and is usually harvested from America, which has high labour costs.

These costs add up in the supply of the wood slab - wood types are priced differently, because the cost of acquiring them is different.

This could become a whole Economics 101 essay, but to keep it short - no, the price of any wood type is not determined by its inherent "goodness".
What are those white bands at the sides of Suar Wood slabs?

That's sapwood!

Sapwood is the living layer of the tree trunk, which carries fluids and nutrients that keep the tree alive. Hence - Live Edge, get it?

Over time, some of the living cells die, and form the heartwood, which is the inner section of the slab. Look closely, and you'll notice all real live edge wood slab have both sap and heartwood.

Of course, colouring does range greatly across different species, of which Suar wood exhibits the strongest sapwood/ heartwood demarcation. Those cream borders contrasted against a dark chocolate centre are prized as the hallmark of classic Suar!
What is South American Walnut?

"South American Walnut" is a made-up term that describes the location (South American) and the wood colour (Walnut), it is not the same species as Black Walnut or its relatives.

This is an industry-coined term that has been used to help consumers understand the origin and colour of what they are purchasing, not the wood type. It is sometimes used to refer to Suar wood that originates from South America, as a way of distinguishing it from Suar wood that originates from other countries.

To avoid confusion, The Table Guy only uses the term "walnut" to describe slabs from the walnut species itself. We do not use it as a colour descriptor.
Product Care
Made by a user, for users.
We're skeptical of manufacturers' claims too - this is why we personally tested a whole range of wood finishes, so you get the one that is not only great for protecting your table from daily use, it's also easy to maintain and allows you to enjoy more of the wood character for decades to come!
Learn more below.
Made for Real Life
The Table Guy solid wood slabs are finished with Rubio Monocoat - a Belgian hardwax oil technology that not only coats your wood slabs, but binds to the cellulose of the wood fibres for long-lasting protection.
Remarkably stain and heat resistant, now you can enjoy worry-free dining without interrupting a calm morning or family dinner by chasing after spills and lunging for coasters. Simply wipe up after meals (don't allow spills to dry on your table) and all will be well.
We've got a whole stress test series on Instagram, follow us there to check it out.
Easy Maintenance
The secret to sustainable furniture, is making it easy for you to maintain. Too much furniture ends up in landfills before their time, just because they look "worn out" or "damaged".
DIY your own repairs and maintenance with the VOC-free Rubio Monocoat system, right in the comfort of your own home. If you've got young children around, we recommend keeping a bottle of Rubio solvent on hand for the occasional colouring accident.
Not confident/ don't have time for the work? No worries - The Table Guy provides support services at reduced rates for our products!
Future-Proof
Let's keep it real - wood slabs are a barely-renewable resource. For this reason, we actively encourage you to reuse and repurpose your Table Guy furniture wherever possible.
Simply store in a bright, shaded area indoors, and keep dry. Annual DIY oiling is recommended for high-traffic areas (prevention is better than cure!).
Restore your table surface to new if you need to rehome it one day, or transform it into a bench or shelf with our carpentry support. We're here to support your sustainability journey.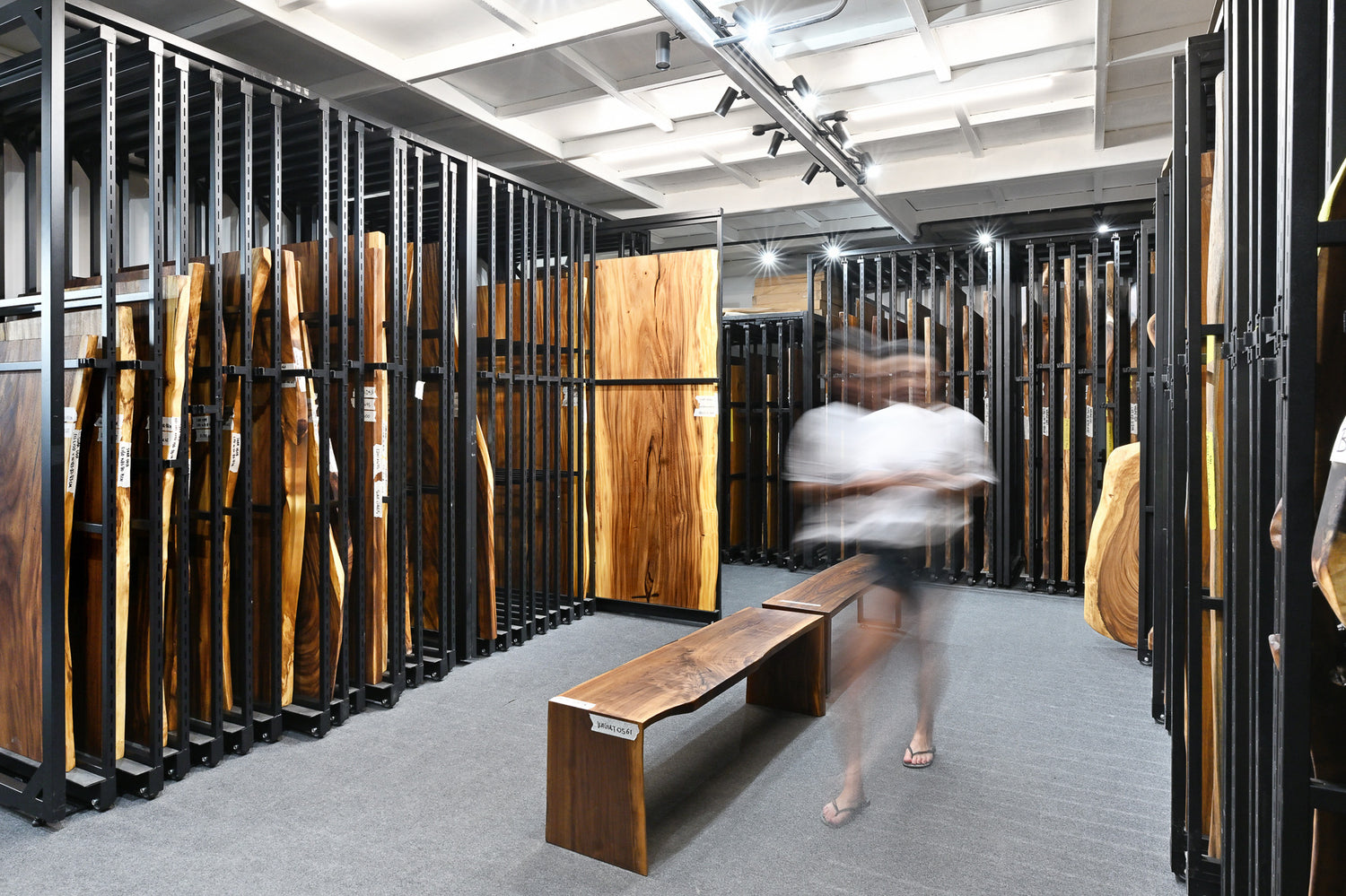 Ready to Visit?
Visit the showroom to view slabs and discuss customisation options with our sales advisers.
221 Henderson Road #01-06A
Contact Us