Regular price
$850.00 SGD
Regular price
Sale price
$850.00 SGD
Unit price
per
Sale
Sold out
Enjoy hassle-free outdoor living with the Ki Dining Set, made from Onewood, a homogenous reconstituted timber. Here are 3 reasons we think you should get the Ki Dining Set:
Sustainable
Made of Onewood, the Ki Dining set is designed for Singapore's outdoor weather. Onewood is reconstituted from plantation trees that mature within just 5 - 10 years, and its homogenous structure allows us to resurface it repeatedly, just like solid wood so you never have to live with worn out furniture. 
Low Maintenance
Structurally resistant to warping, insects, mould and other concerns that plague natural hardwood, Onewood can be used in full outdoor exposure with minimal maintenance. Enjoy your outdoor space fully without worrying about rain and sun! 

Versatile
The Ki Dining set is designed to look great both outdoors and indoors, so it can fit into your lifestyle as it evolves over time. Styled after the torii gates of Japan, subtle design elements elevate your space with a touch of quiet elegance. With a surface that can be sanded repeatedly like natural wood, the Ki Dining set can also be stained to match your decor.
Dimensions: L140cm x W30cm x H45cm
Availability: Every piece is made-to-order, delivered within 8-10 weeks.


How to Purchase

Where
The Ki Dining Set is available for viewing at The Table Guy showroom, at 221 Henderson Road #01-06A, 1-6pm daily.

When
The Ki Dining Set is exclusively made-to-order, with a lead time of 8-10 weeks.
How to Customise

The Ki Dining Table is not available for size customisation at this time.

There are 3 finish options available:
Raw (recommended)
Clear Coat
Dark Stain

Please select accordingly in your order.
Product Care

To prevent stains, burns and scratches, table protection is generally recommended while in use. Coasters for cups, trivets for hot items and placemats for dishes are simple method of prevention that go a long way.

Outdoor exposure will give your furniture a natural patina over time, and the rate of change will depend on your specific environment.
Storage, Delivery, Installation

Storage
New purchases from The Table Guy are eligible for up to 4 months' complimentary storage from date of purchase. Extensions beyond 4 months are chargeable, and you will be quoted based on the overall duration requested and size of items to be stored.

Delivery

Complimentary delivery is included for orders above $800.

Installation
All deliveries include installation, which is conducted on-site. Clients are responsible for ensuring safe access for both the items and workers. In the event of improper environment/ lack of access (eg ongoing renovation/ construction site/ unreachable contact person), the delivery may be cancelled and a redelivery fee will be charged.

Disposal
Our logistics teams offer disposal services at additional fees, which are paid to disposal sites and for manpower. Should you require bulky furniture disposal, please place your order before scheduling your delivery date, so that the logistics team can cater the space required to transport your bulky waste.
Payment & Warranty

Payment
To purchase your dining table, payment is required in full. To help minimise transaction costs to you, our default payment mode is Paynow.

Should you require alternative methods such as credit cards, please let your sales adviser know so that they can apply the correct transaction fee which is charged by these platforms.

Should you wish to discuss instalment payment, we are happy to assist. For all in-house instalment plans, final balance payment is due prior to delivery scheduling, and any instalments overdue by more than 7 working days will void your purchase and forfeit your deposit.

Warranty
The Ki Dining Set is covered by a 5-year structural warranty from date of delivery, covering both outdoor and indoor use.

As Onewood is a reconstituted timber, it has similar cosmetic qualities to solid wood. The warranty does not cover cosmetic changes nor user damage.
View full details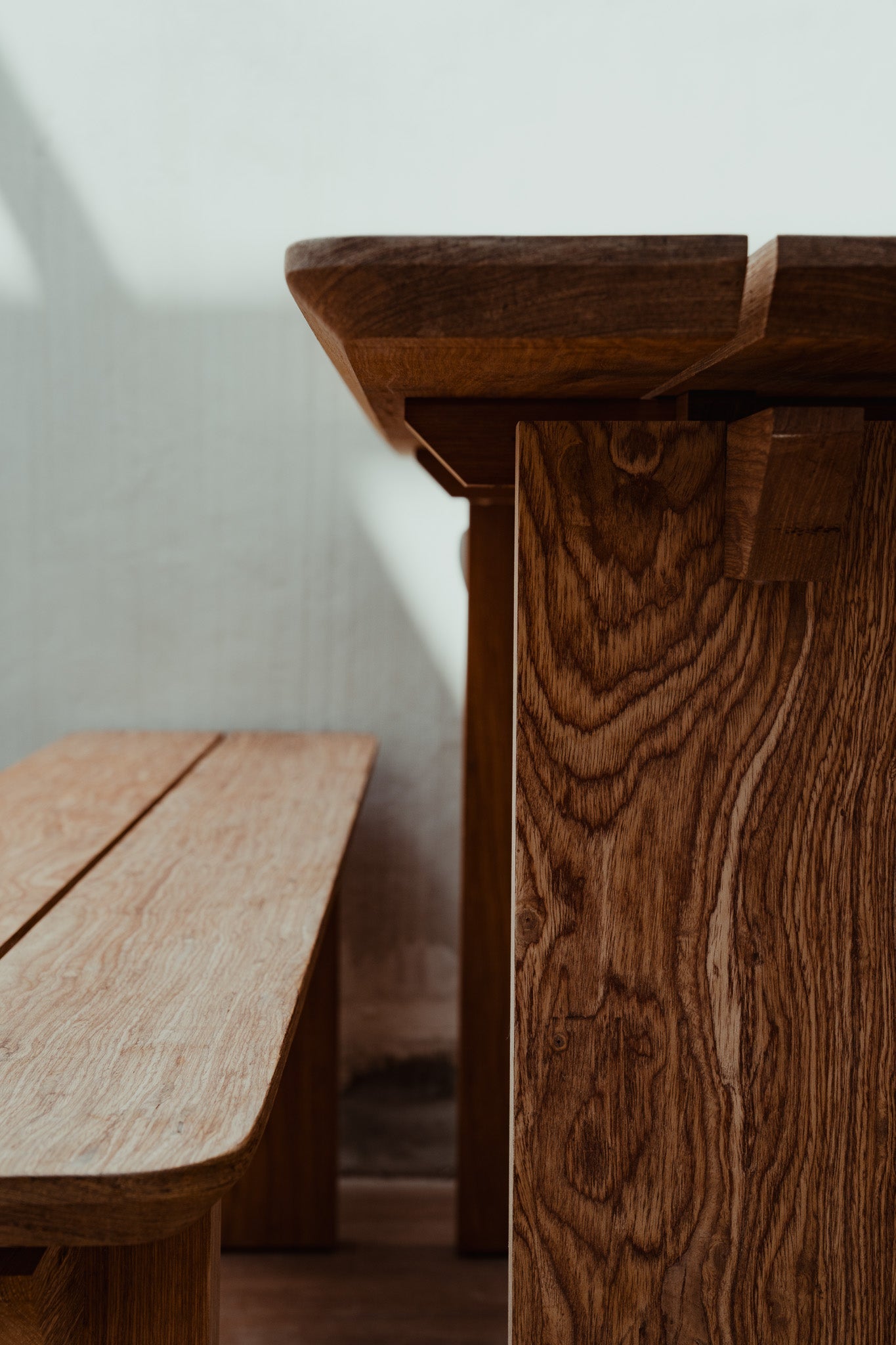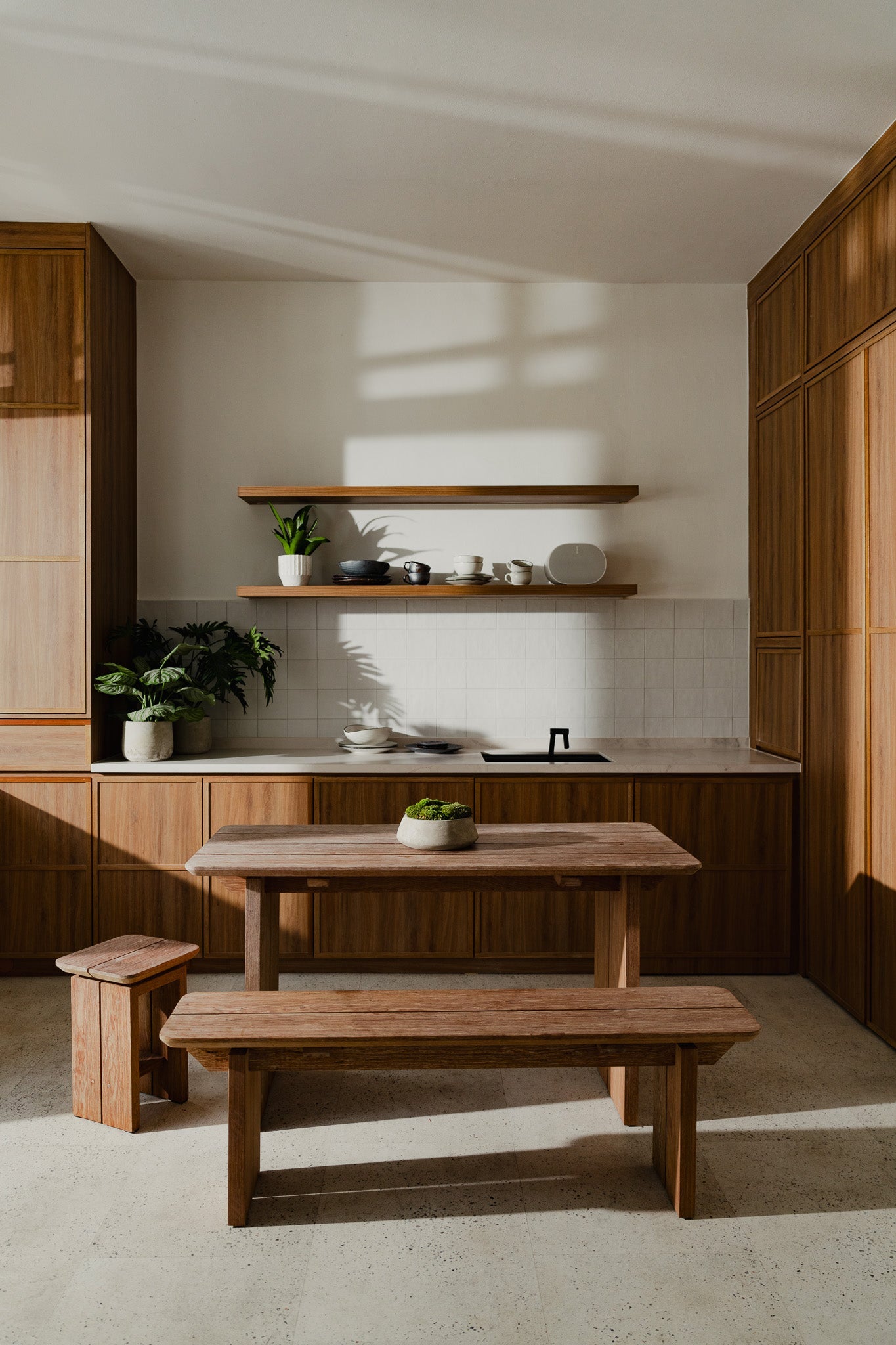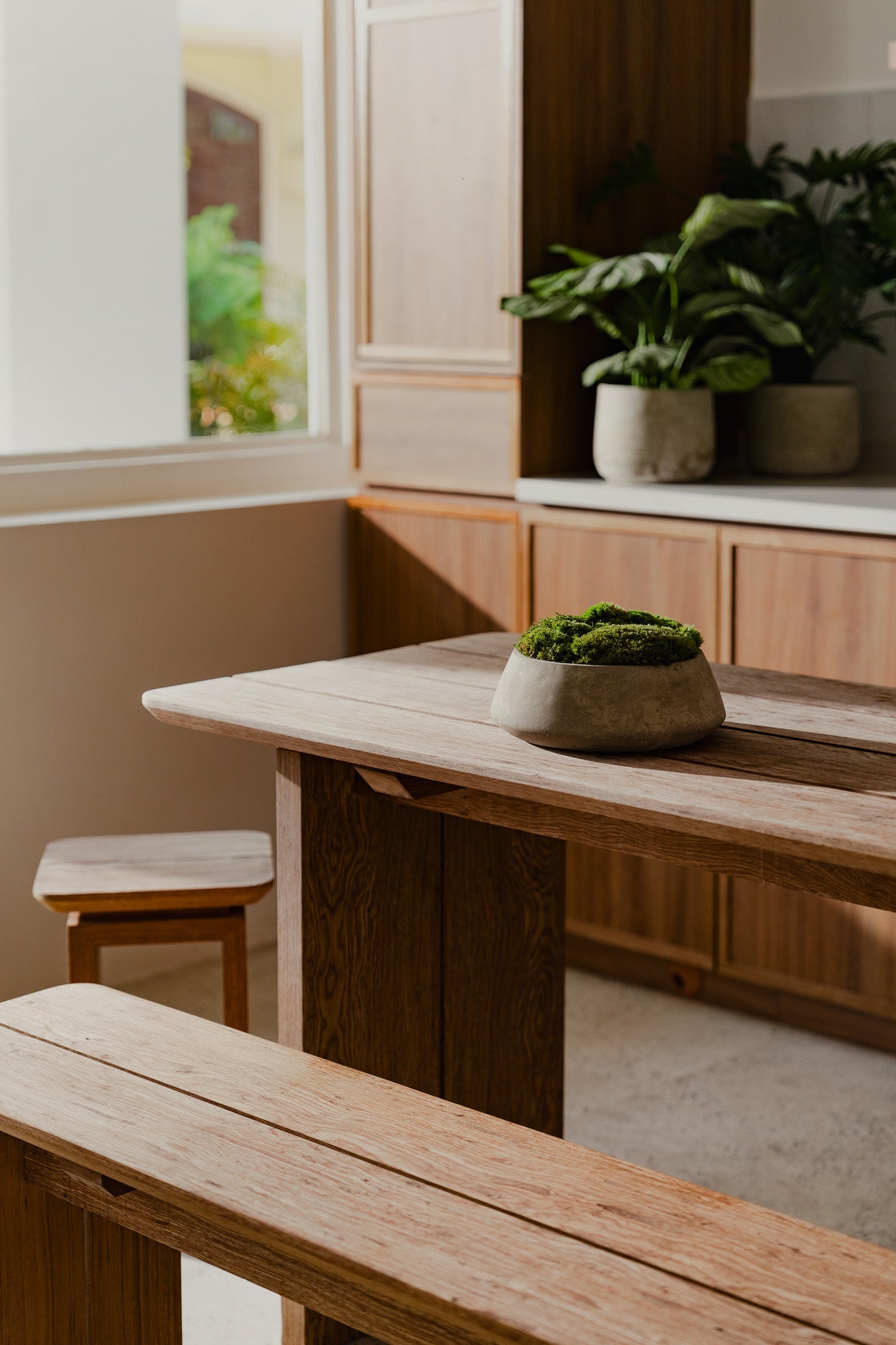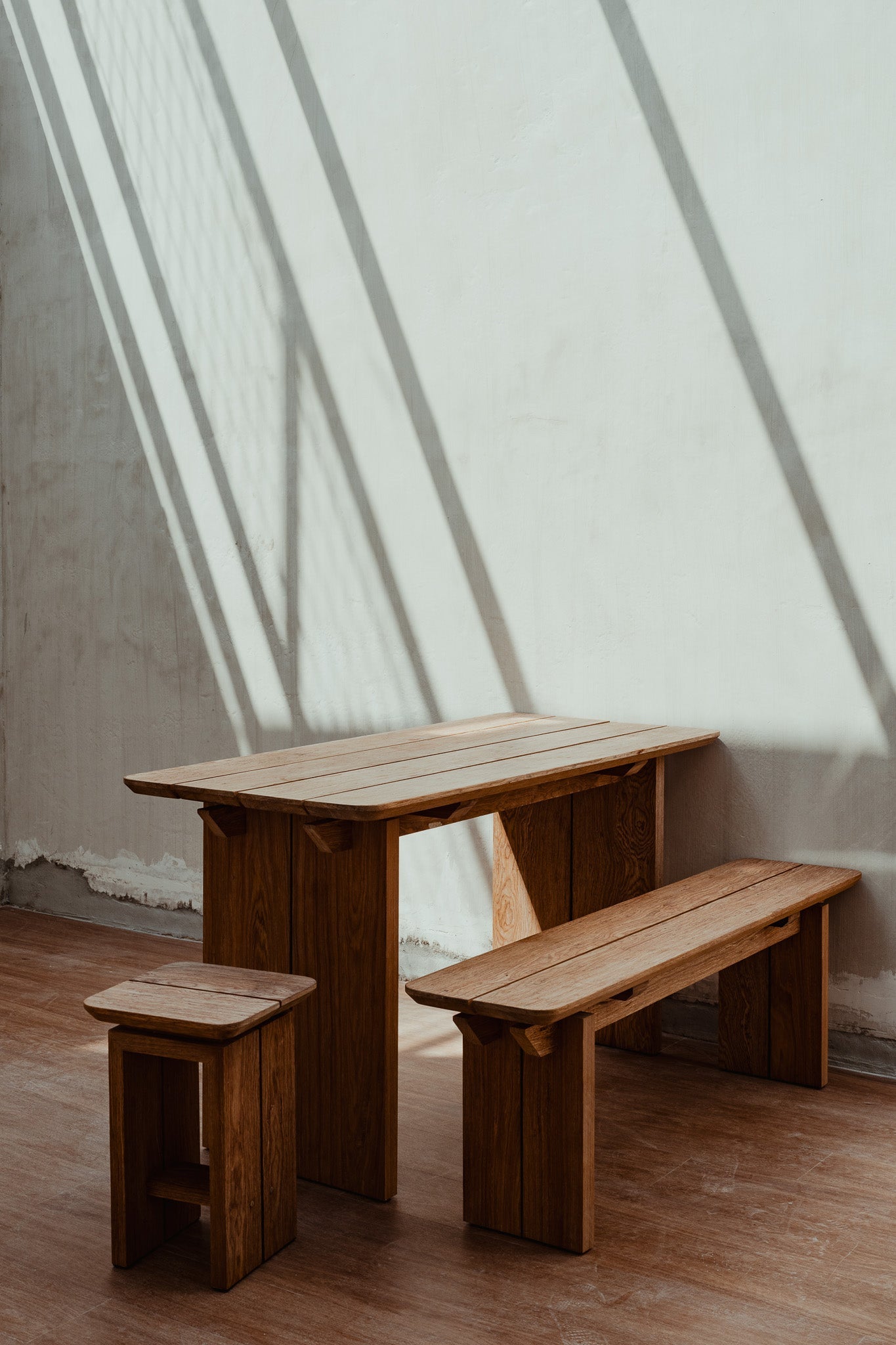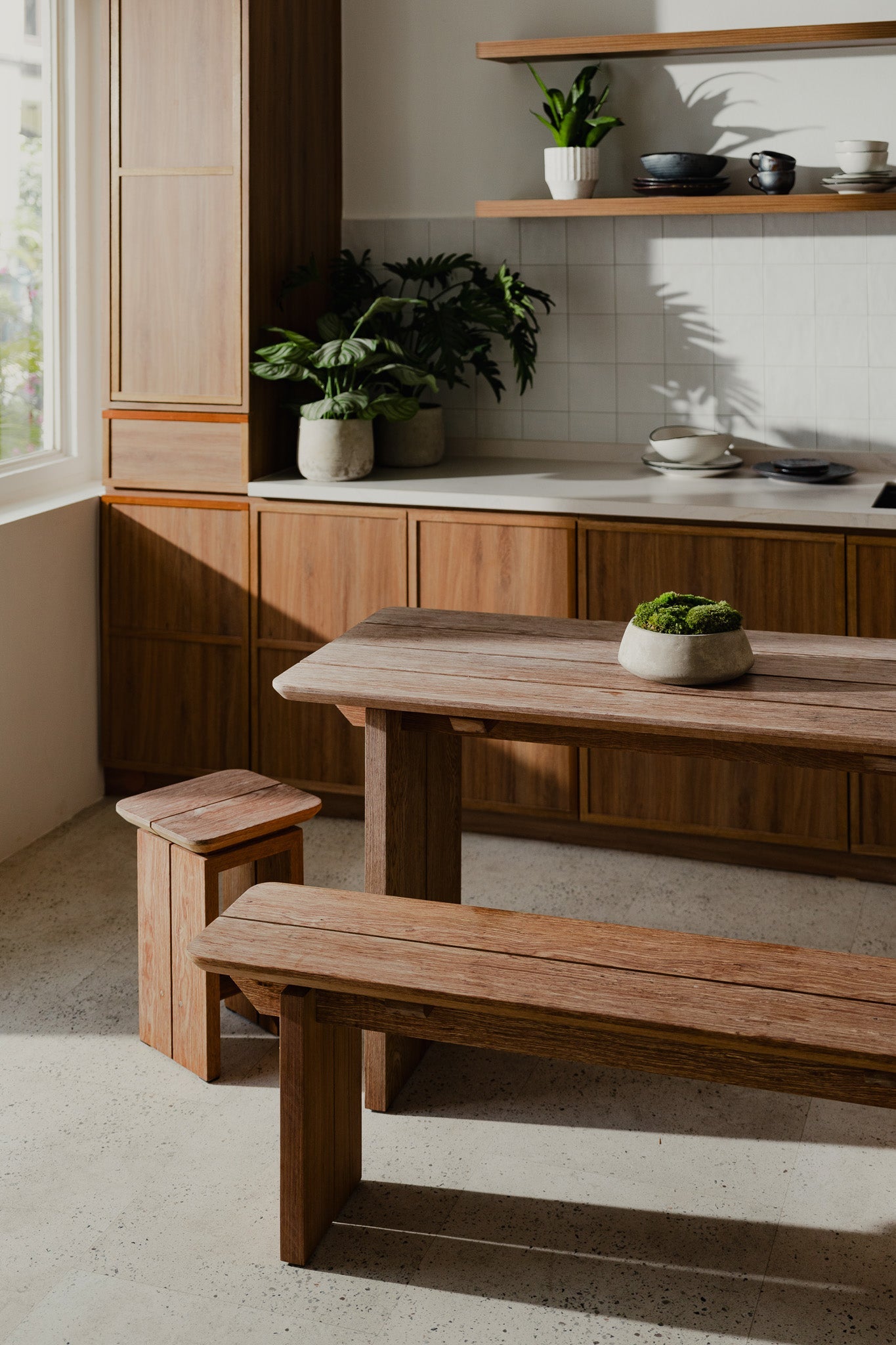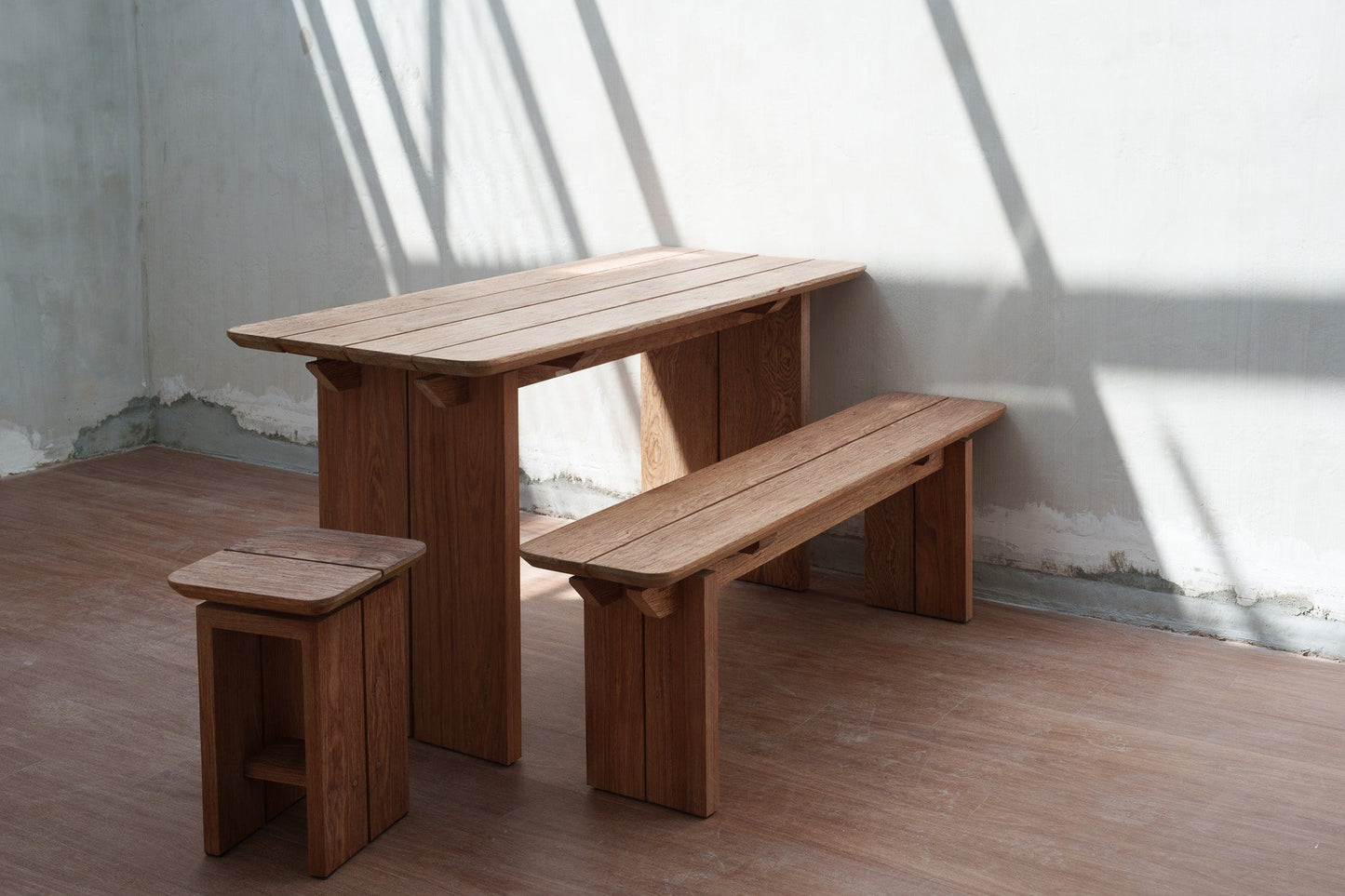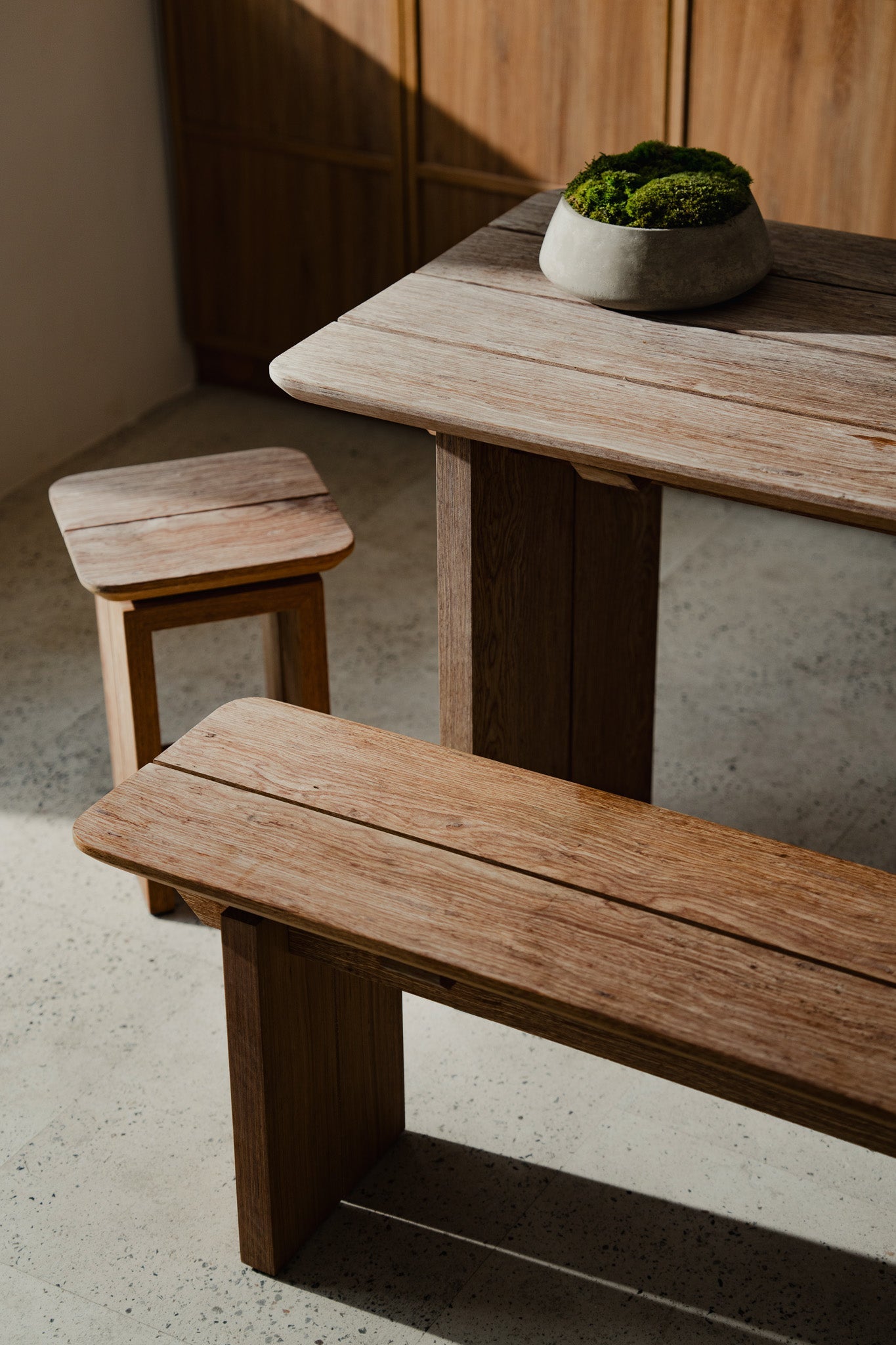 FAQ
Should I go for the raw finish or sealed/ stained?

Both finishing approaches have their respective pros and cons.

Raw & Unsealed
Pros: More even weathering, easier to sand or scrub away any stains on the go.
Cons: Easier to stain.

Clear Coat/ Stained
Pros: More stain resistant, can get a more uniform colour without the natural variances of wood.
Cons: Restoration will require more work as you will have to reseal it afterward, uneven weathering will result in more noticeable discolouration.
If I leave it raw, will that affect the structure?

No, Onewood is inherently resistant to issues such as splitting, insects and mould, without the coating.

Do note that Onewood has a similar cosmetic performance to natural wood. This means that the material will develop its own patina in response to environmental conditions, as well as cosmetic changes such as surface checks.

These are natural cosmetic changes that can be removed with sanding, and do not affect the structural integrity of the furniture.
Why isn't the size customisable?

At the moment, the Ki Dining Set is available as a compact 4 - 6 seater. This is the size that fits most apartment balconies comfortably, while still offering enough space for dining use.

It cannot be customised for now, as the material use is calculated to minimise wastage from the logs.

Depending on the feedback we receive though, we might offer different sizes in the future! So please let us know your thoughts on sizing (:
What maintenance is required?

The Onewood material is weather resistant, and does not require special maintenance to preserve its structure.

However, for aesthetic purposes, you may wish to conduct surface maintenance at intervals to restore the appearance of your furniture.

A simple sanding session and application of a fresh coat of lacquer will remove all cosmetic wear and tear and restore your furniture surface to new.

*Special Note: If you choose the raw finish, fresh stains from spills or water can generally be removed with Jif and a scrub.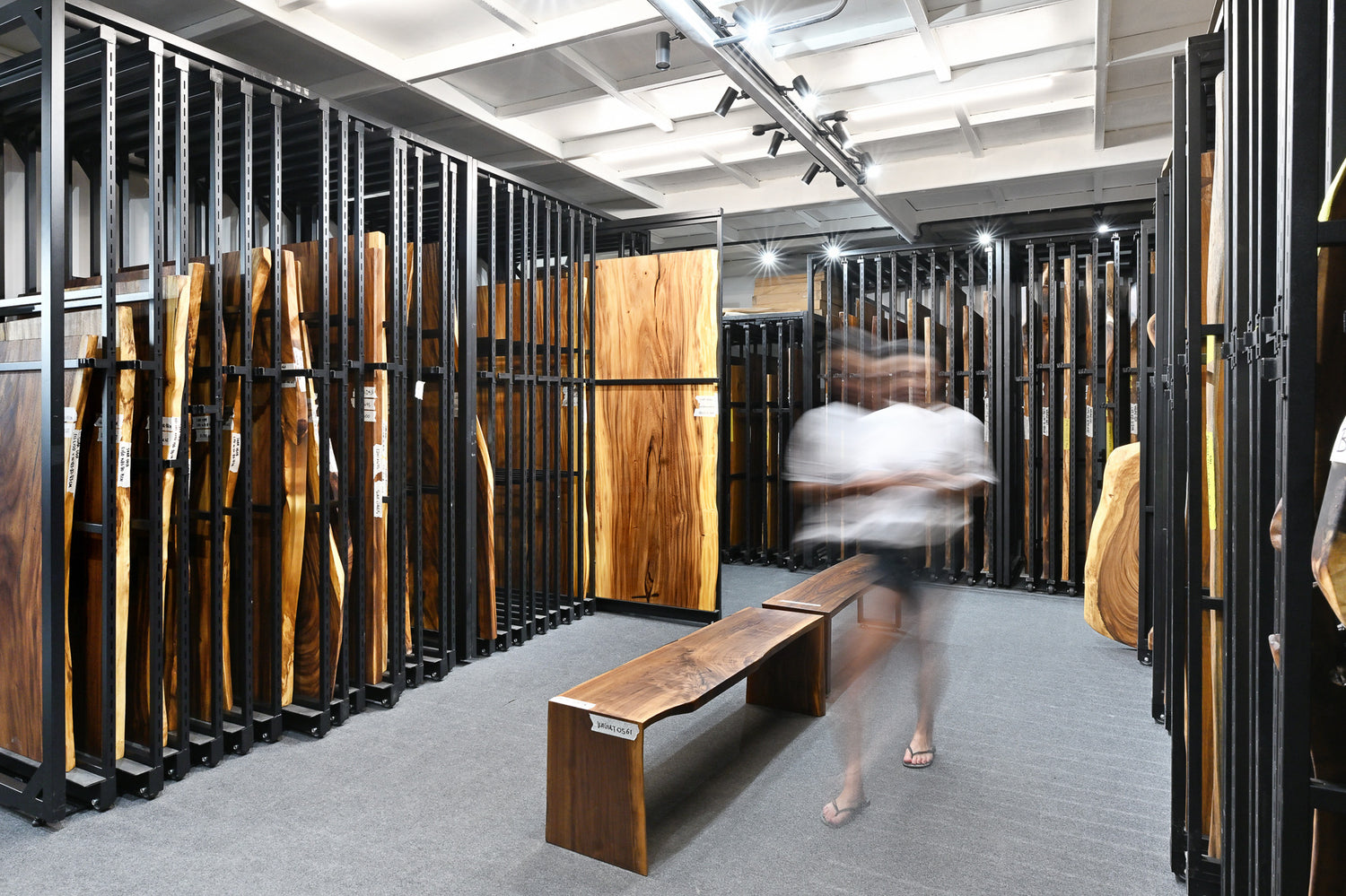 Ready to Visit?
Visit the showroom to view slabs and discuss customisation options with our sales advisers.
221 Henderson Road #01-06A
Contact Us