Regular price
$2,900.00 SGD
Regular price
Sale price
$2,900.00 SGD
Unit price
per
Sale
Sold out
Formed over millions of years by cooled magma rising from the Earth's core, we love granite not only for its stunning appearance, but also its structural durability.
This luxurious dining material is also incredibly practical: naturally heat and scratch resistant due to its inherent strength and density, our granite slabs also come with an additional nano-coating sealant to increase stain resistance, so you can enjoy it every day, worry free!
Make it yours: pick between the single edge for a slimmer profile (20mm), or add a double edge for more visual heft (40mm). Customise the size and shape to fit your interior style, and you've created something unique to you!
Ready to begin your granite journey? Click here to contact an adviser.
Share
View full details
Consult our product team.
Get advice tailored to your needs from our product specialists. We pay attention not only to the look you want to achieve, but also your user needs and lifestyle considerations.
Select your statement slab.
Once your project is confirmed and specifications finalised, it's time to select your slab! Our team will curate options based on the discussions with you, for selection.
Get it customised.
The work begins - your chosen leg frame goes into fabrication, and your granite table top is cut, polished and fitted for your project. A second coat of sealant is applied for extra protection.
Signed, sealed, delivered.
Our table quotes include delivery and on-site installation, conducted on working weekdays between 10am to 6pm.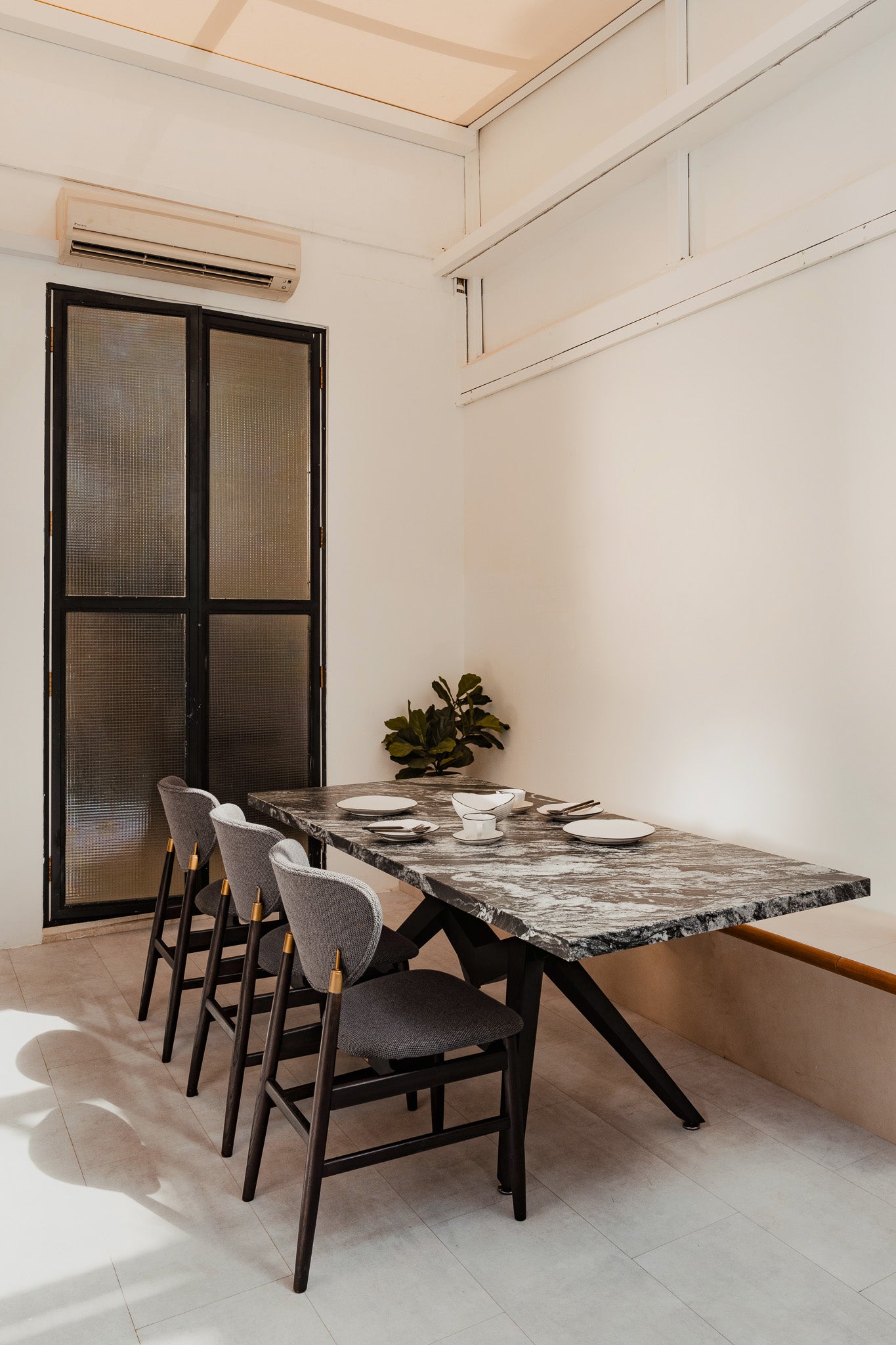 Enjoy it for generations.
Enjoy your custom built granite dining table every day. Simply wipe up promptly after use and avoid surface cleaners that are abrasive or acidic. Reseal every 3-4 years to prevent accidents.
Frequently Asked Questions - Granite
What do listed prices include?

Prices listed here include a stock leg frames, GST, delivery and installation, as well as a single profile edge options.

Double edge profile options are available at an upgrade.
Can I choose other leg frames or design my own?

Yes you can, and fees will be quoted based on the specifics of your order.
Can I customise the table top to a specific dimension/ shape?
Is granite good for regular, daily use?

Formed out of cooling magma from the core of our Earth, granite is incredibly heat resistant. Second only to diamond in hardness, it is also extremely scratch resistant.

However, natural stone is porous, and therefore susceptible to stains. Our granite tables have a layer of nanocoating sealant applied in the material, and an additional layer of sealant applied prior to delivery, which increases stain-resistance.

For daily use, we recommend using standard table protectors like coasters, trivets and placemats, as well as wiping up any spills promptly.

Avoid surface cleaners that are abrasive or acidic, as this will damage your table sealant faster and may cause staining on lighter coloured stone.
How long can granite last?

Granite has been used in building construction for centuries, and is renown for its incredible durability. As long as proper care is taken during use and storage, it is likely to outlive both you and your grandchildren's grandchildren.